Petoi Bittle
Petoi Robot Dog Bittle
Regular price
$255.99 USD
Sale price
$255.99 USD
Regular price
$269.00 USD
Save 5%
Sale price
$255.99 USD
(5% off)
Regular price
$269.00 USD
Unit price
per
Sale
Sold out
Shipping & Returns

☑ US orders: free shipping on $200+ orders and $5.99 shipping on smaller orders. Estimated delivery in 4-7 business days.

☑ International orders: free shipping on $400+ orders and $15.00 shipping on smaller orders, plus any applicable customs charges. Estimated delivery in 7-15 business days.

☑ US holiday orders: November and December purchases are eligible for free returns/exchanges by January 5 or within 30 days of receipt (whichever comes later). 
Share
Frequently Asked Questions
Open all
Close all
Where can I find the Bittle user manual and/or documentation?
Please visit our documentation for detailed assembly instructions, as well as configurations, sample codes, and info about available upgrades.
How old should Bittle users be when they get started?
Bittle is best-suited for users aged 10 and older. Younger users can enjoy building Bittle under adult supervision
How does the STEM kit compare to the robotics kit?
The STEM kit was developed specifically for education applications and employs high-impact plastic servos. The robotics kit was developed for research development and applications and employs metal servos.
What are the differences of all of your Bittle robot dog models?
How long does it take to assemble Bittle?
For the construction package, it takes 40-90 minutes to assemble and configure Bittle to be playable with the remote control or the Petoi mobile app.
The pre-assembled package allows users to enjoy Bittle straight out of the box with the included remote control or the Petoi mobile app.
Does Petoi offer drag & drop coding support and curriculum?
How long does the battery last?
The Li-ion battery pack for about one hour of continuous walking.
Does the kit include a charger?
The kit does not include a charger but a Micro-USB to USB cable. The battery can be charged with regular micro USB chargers.
Can you tell me more about how your quadruped robots work with Arduino/Raspberry Pi and its supporting modules?
Can you tell me more about the supporting software to control and program Bittle?
Can you tell me the differences between your quadruped robot dog and cat?
How is Bittle compared to some of the best quadruped robot dogs and mechanical puppies on the market?
Does Bittle require a network connection to fuction? Does it send my voice to any server?
No, Bittle doesn't need any network connection. It processes your voice command locally and doesn't send any of your voice to any server.
How much weight can Bittle carry?
How many joints and degrees of freedom does Bittle robot dog have?
Bittle is a four-legged robot dog with 2 joints on each leg and 1 joint on its neck, so a total of 9 joints. It means Bittle is a 9-degree-of-freedom(DOF) quadruped robot.
How fast can Bittle run
A safe fast speed is 2 body lengths/second, or 40mm/second. It could run 3-4 body length /second in experimental mode(not published).
Where can I find 3D-print STL files for Bittle?
Is there a robot dog Bittle unboxing review?
Is there any Bittle review on Amazon?
Where can I find the best price for Bittle? When will Bittle be on sale?
Petoi.com always has the lowest price. Please scroll down to the bottom of this page and subscribe to our newsletter to get notifications of sales.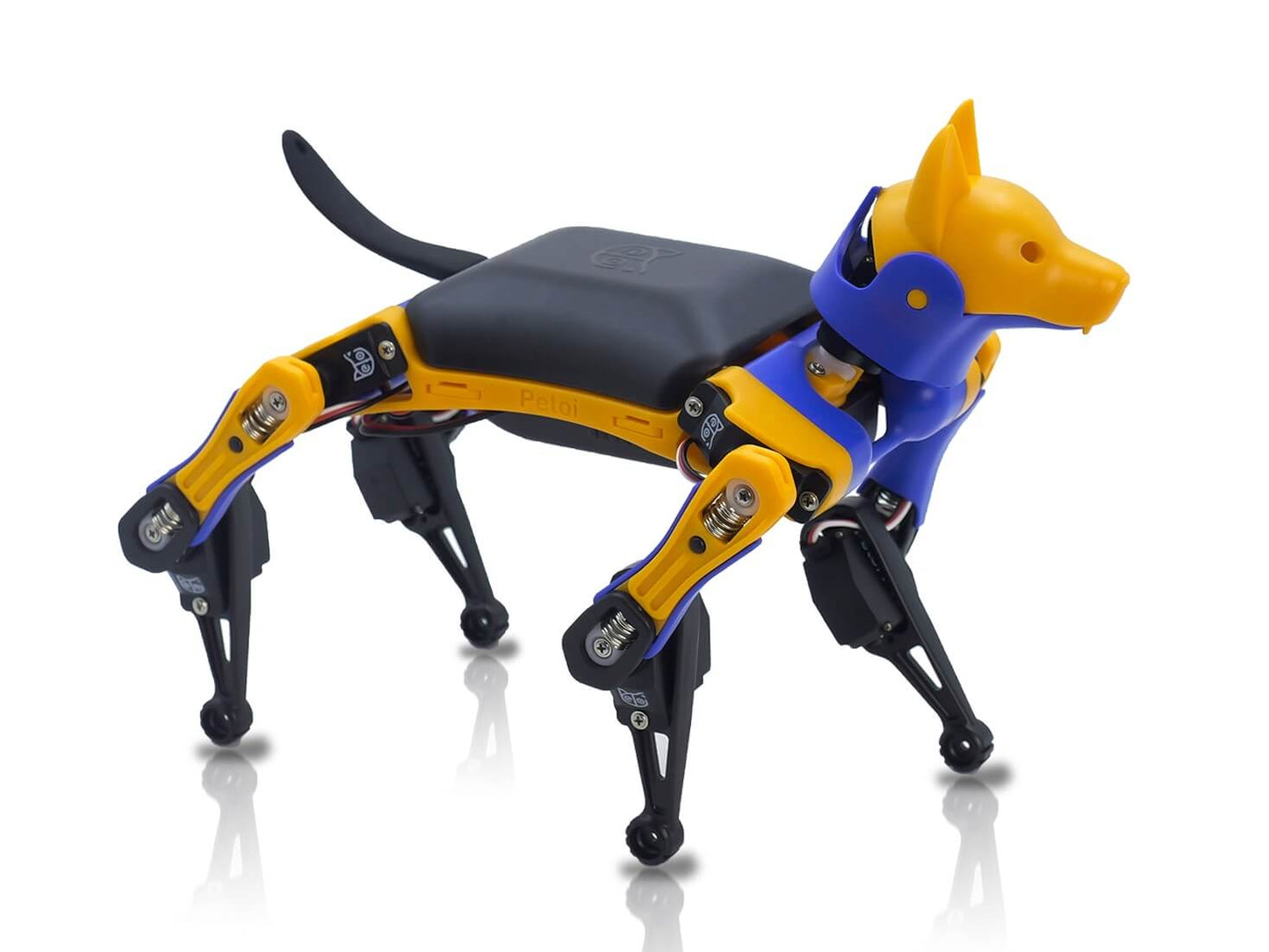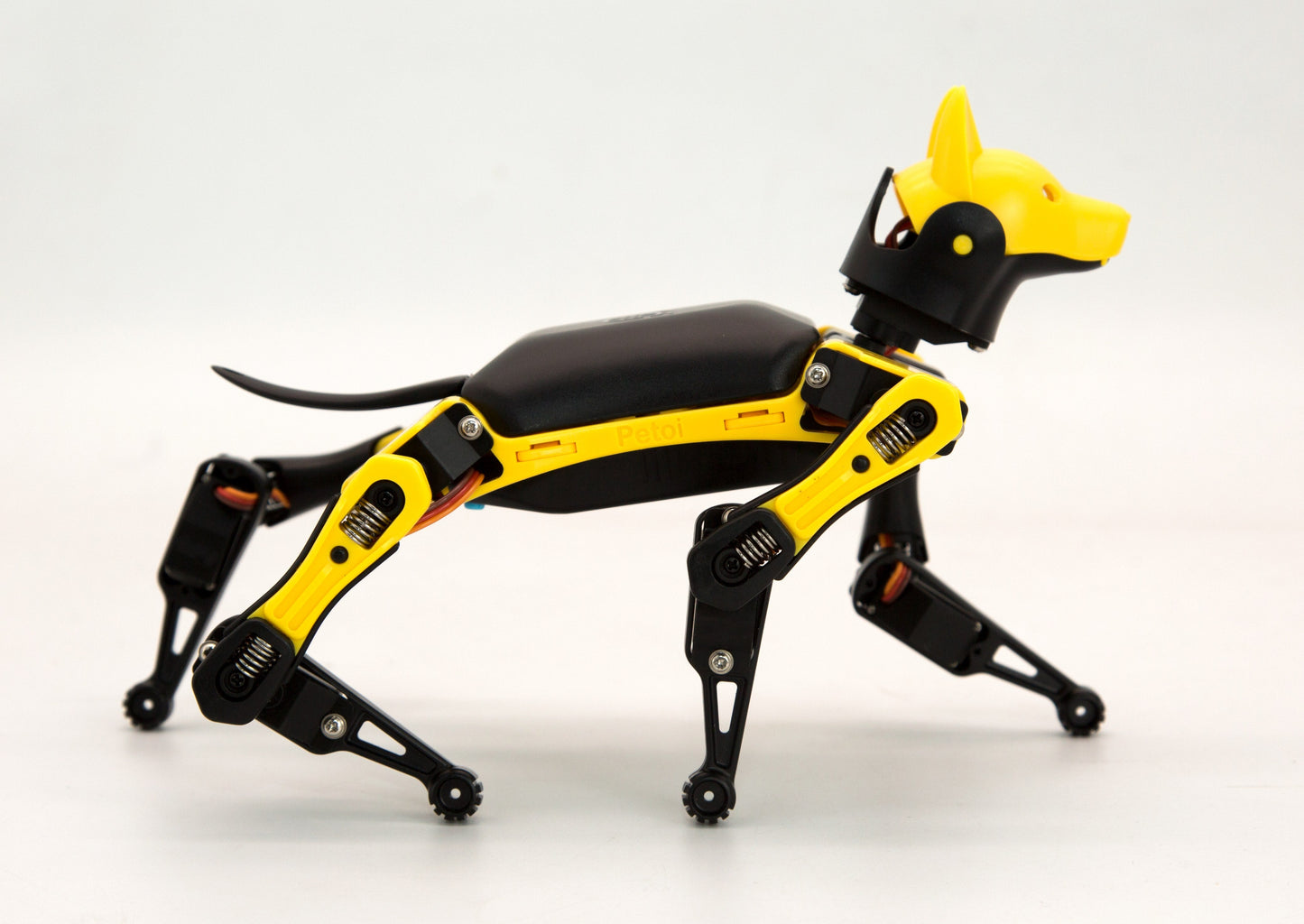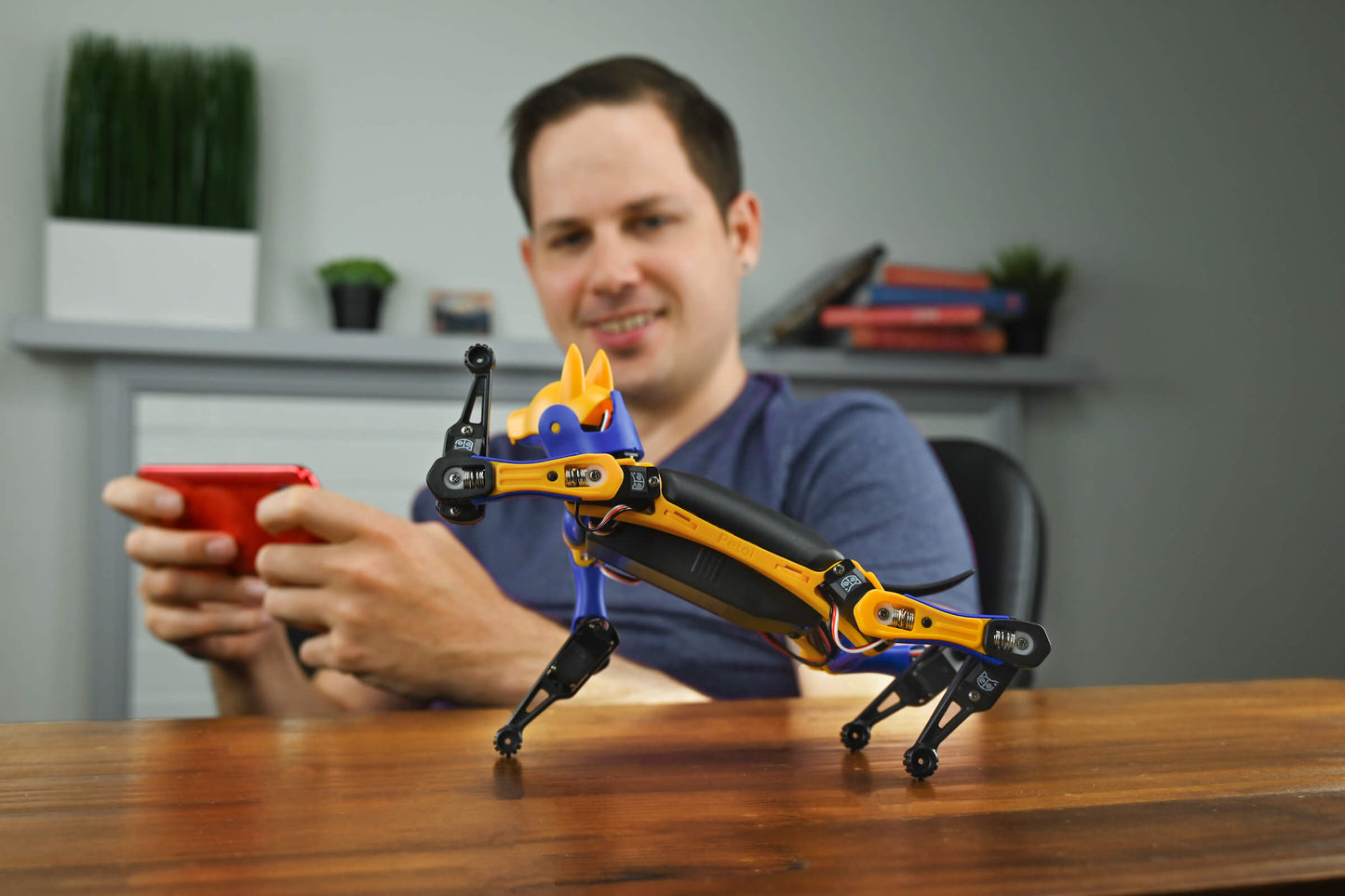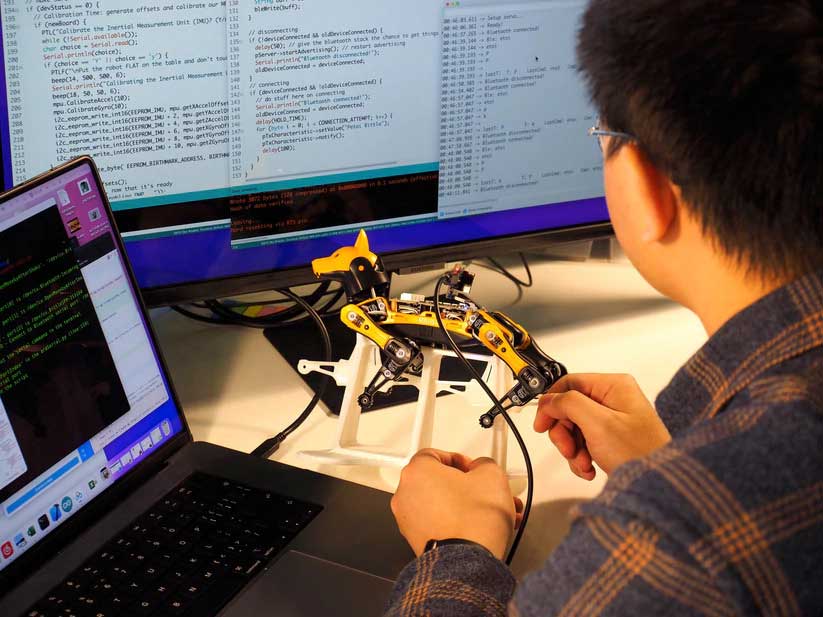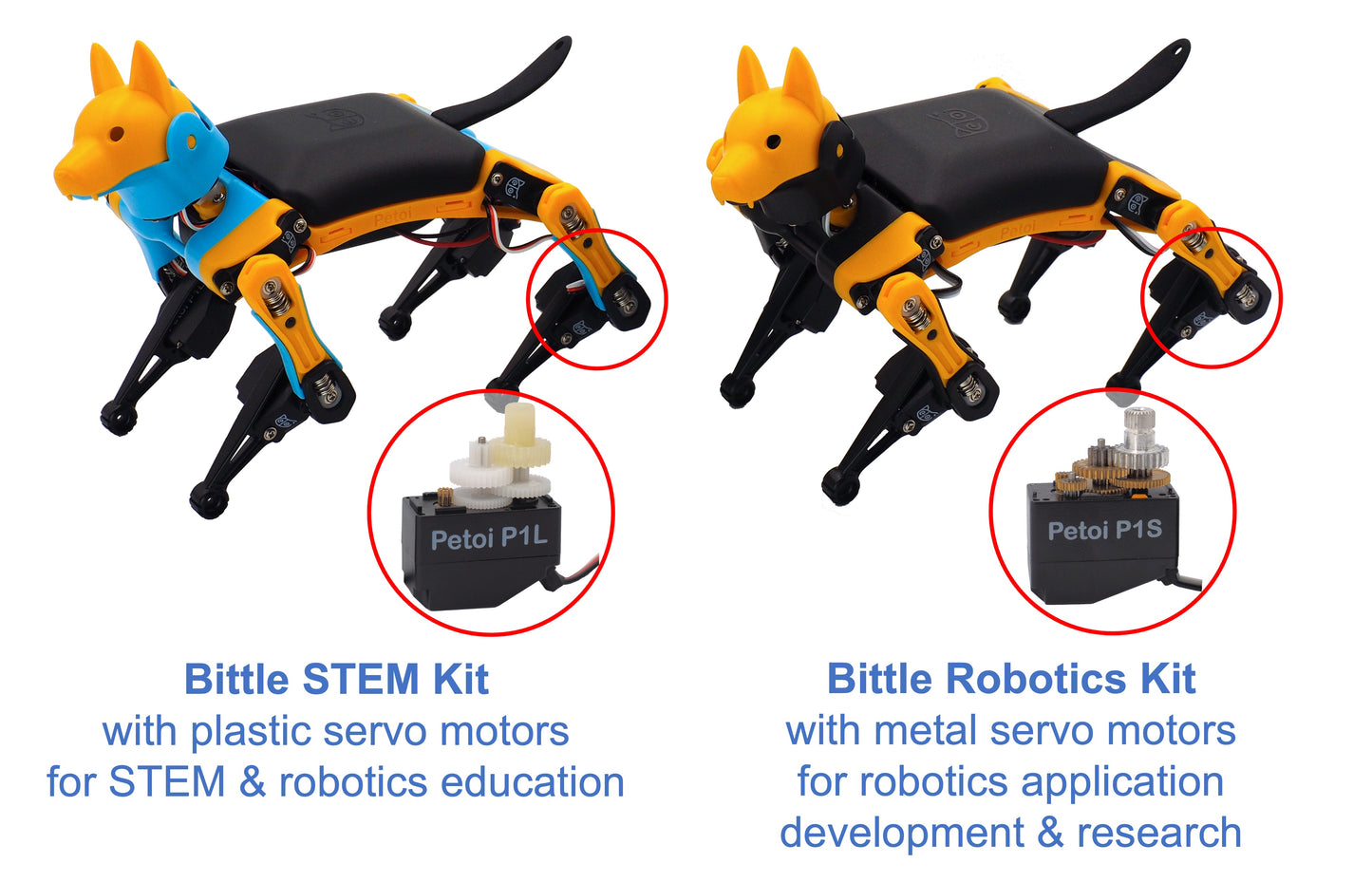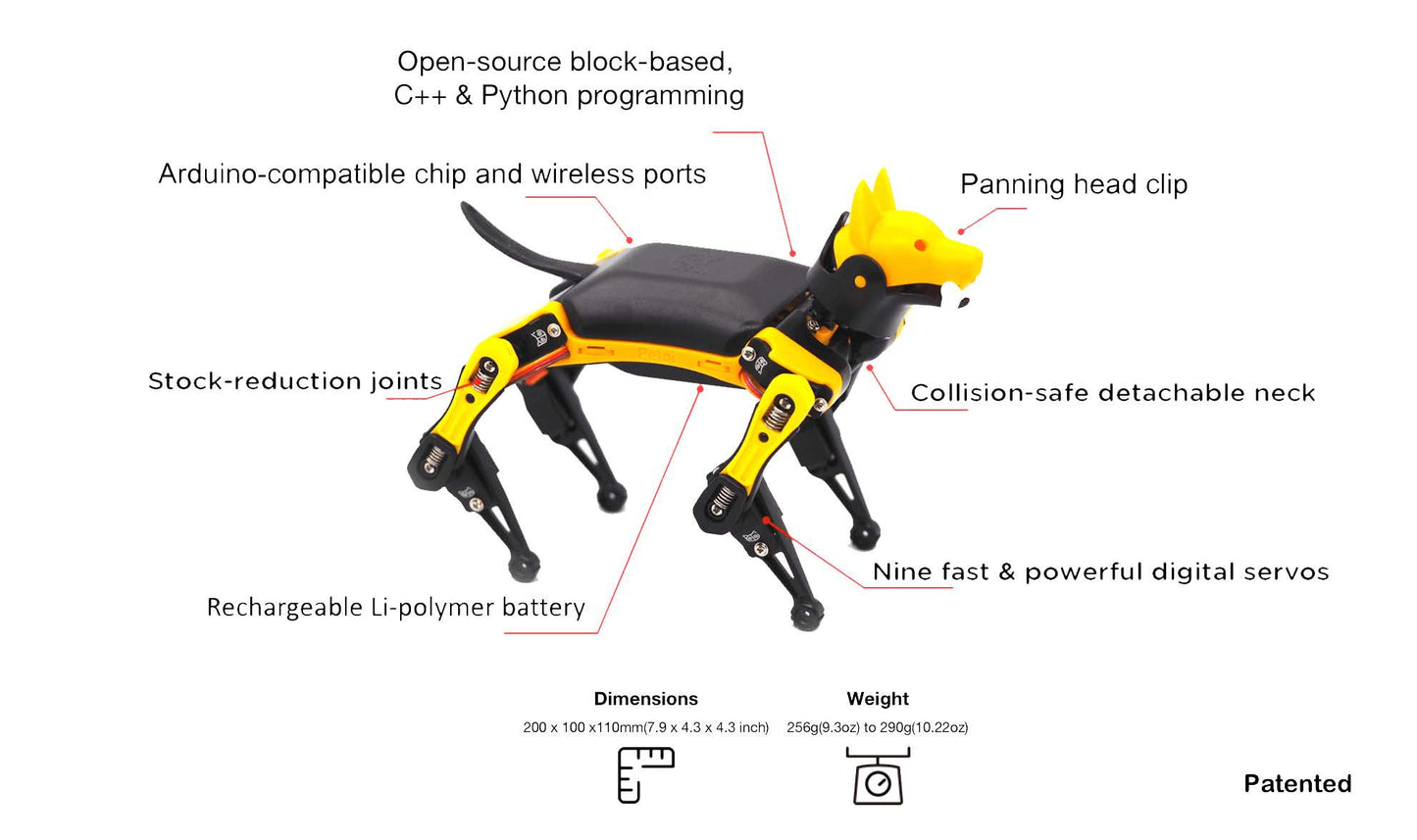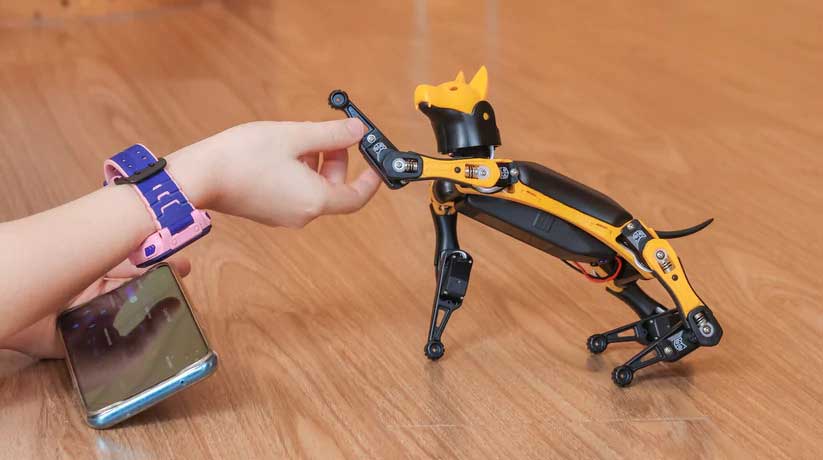 Great Start, I'm digging in more deeply.
Out of the box, the mobile app worked easily and quickly over the BlueTooth connection mechanism. This 'Pet Toy' It is really cute.
I was able to update the NyBoard V1_2 firmware after a Mac OS Driver on my MacBook Pro was updated and I figured out how to
establish the USB connection with the Uploader circuit substituted in place of the BlueTooth circuit. The Arduino IDE 2.0 seems to
work with the USB Uploader plugged in. I purchased some sensors and I will work on the Gestures circuit/module first. I am hoping
to have some gestures working soon enough to use in an upcoming workshop for middle school girls sponsored by STEM Santa Fe.
Thanks for a great hands-on teaching inspiration. BTW, I do have a Computer Science degree with an Electrical Engineering minor.
Programming this unit may intimidate those without some technical background.
Add AI And It Will Be Man's New Best Friend
Petoi Bittle is without a doubt the best robotic kit that I have seen. It is elegant engineering. Bittle does not show any signs of weaknesses or cost cutting. The build, quality and cosmetics are excellent and more importantly it is extensible. From a shipping standpoint the product packaging is excellent with all items held firmly in place. Startup and assembly instructions and supporting videos are available online. Calibrating the legs was also well documented and easy. The kit includes everything you need as well as an IR Remote, and a spare relay, spring and boot. The IR Remote is great to get started without a PC or Phone. My unit started up and was able to perform all the pre-programmed functions without a problem. Code is available online that allows you to control Bittle from your PC or Phone. Both sets of code downloaded and worked properly. I purchased the Intelligent Camera Module with Bittle, it was also well documented, and I was able to get it up and functioning in minutes. I was even able to 3D Print a stand from a file provided by Petoi. Bittle's software is open source, and it is supported by a lot of documentation and additional sample code. I was looking for a robotic platform that I could extend and Bittle has exceeded my expectations in every area. Adding or changing Bittle's functionality requires a knowledge of Arduino and coding, but the good news is there is a lot of information on Petoi Camp that will help get you started. Additionally, Bittle supports a Scratch like language to help kids and non-programmers get started. If you are starting a STEM class or a project to teach your kids robotics, Bittle would be an excellent choice, they even provide a link to download a suggested curriculum. The only part of Bittle that I wasn't impressed with was the head and sensor mounting. I think a Nybble style head with two axes of movement would be better especially if a camera could be integrated with the ultrasonic sensor. For anyone looking for a quadruped robot I would highly suggest you consider Bittle.
Excellent
Excellent solution to initiate about robotics from 7 to 99 years old