Petoi Nybble
Petoi Robot Cat Nybble
Regular price
$253.99 USD
Sale price
$253.99 USD
Regular price
$299.00 USD
Save 15%
Sale price
$253.99 USD
(15% off)
Regular price
$299.00 USD
Unit price
per
Sale
Sold out
Shipping & Returns

☑ US orders: free shipping on $200+ orders and $5.99 shipping on smaller orders. Estimated delivery in 4-7 business days.

☑ International orders: free shipping on $400+ orders and $15.00 shipping on smaller orders, plus any applicable customs charges. Estimated delivery in 7-15 business days.

☑ Holiday orders: November and December purchases are eligible for free returns/exchanges by January 5 or within 30 days of receipt (whichever comes later). 
Share
Frequently Asked Questions
Open all
Close all
Where can I find the Nybble user manual and/or documentation?
Please visit our documentation for detailed assembly instructions, as well as configurations, sample codes, and info about available upgrades.
How old should Nybble users be when they get started?
Nybble is best-suited for users aged 14 and older. Younger users can enjoy building Nybble under adult supervision
How long does it take to assemble Nybble?
On average, it takes four hours to assemble Nybble's frame. No soldering is required for the basic functionalities of Nybble. There are several moments when you need to be extremely careful to plug in the cords in the right order and direction.
How beginner-friendly is the process of setting up the software and playing with Nybble?
After assembling the pieces, you will need to learn some basic operations in Arduino IDE or use the Petoi mobile/desktop apps to configure. Then you can control Nybble with the included infrared remote or the Petoi mobile or desktop apps. Prior coding experience is required
Does Petoi offer drag & drop coding support?
How long does the battery last?
Nybble has two versions. The current version V2 comes with a rechargable Li-Ion battery providing 70 minutes of playing time. The older Nybble V1 version doesn't come with a battery. Please check the recommeneded batteries for Nybble V1 that provide about 45 mins of playing time.
Can you tell me more about how your quadruped robots work with Arduino/Raspberry Pi and its supporting modules?
Can you tell me more about the supporting software to control and program Nybble?
Can you tell me the differences between your quadruped robot dog and cat?
Does Nybble require a network connection to fuction?
No, Nybble doesn't need any network connection.
What can a robot cat do?
A real robot cat like Nybble can sit, stretch, sleep, balance, greet, and do pushups. You can also program Nybble to perform new actions and do new tricks.
What is NyBoard?
NyBoard is an Arduino compatible motion controller that Nybble runs on. An analogy is NyBoard is to a robot like a motherboard to a PC. You can use NyBoard for Arduno and IoT programming, and design whatever robotic animal or creature you like.
What's the relation of OpenCat and Nybble?
OpenCat is the open source quadruped robotic pet framework that Nybble runs on. Petoi founder Rongzhong Li built a robot cat prototype running on OpenCat and commercialized it to become Nybble.
How many joints and degrees of freedom does Nybble robot cat have?
Nybble is a four-legged robot cat with 2 joints on each leg, 2 joints on its head, and 1 joint on its tail, so a total of 11 joints. It means Nybble is a 11-degree-of-freedom(DOF) quadruped robot.
Where can I find 3D-print STL files for Nybble?
Where can I find the best price for Nybble? When will Nybble be on sale?
Petoi.com always has the lowest price. Please scroll down to the bottom of this page and subscribe to our newsletter to get notifications of sales.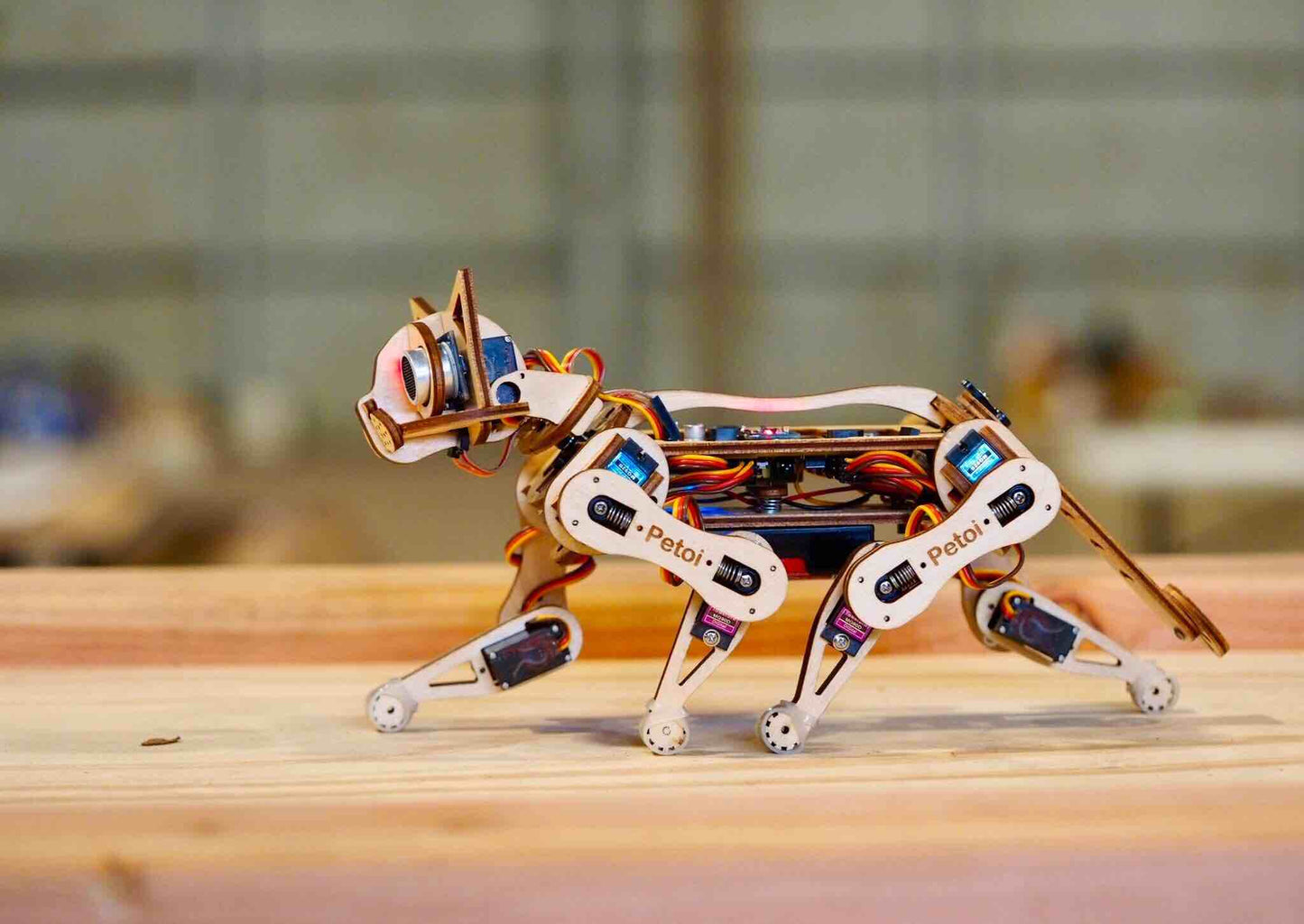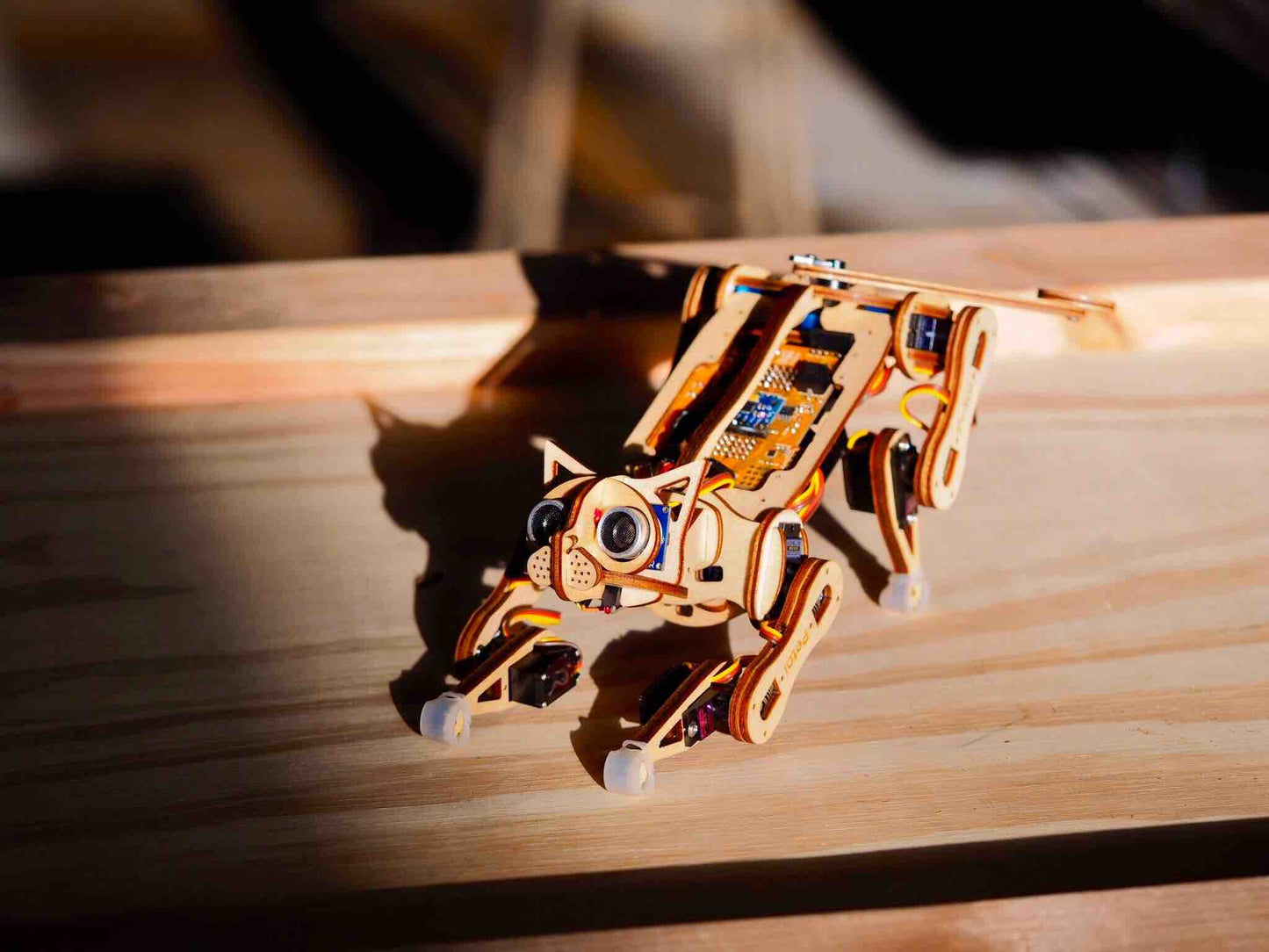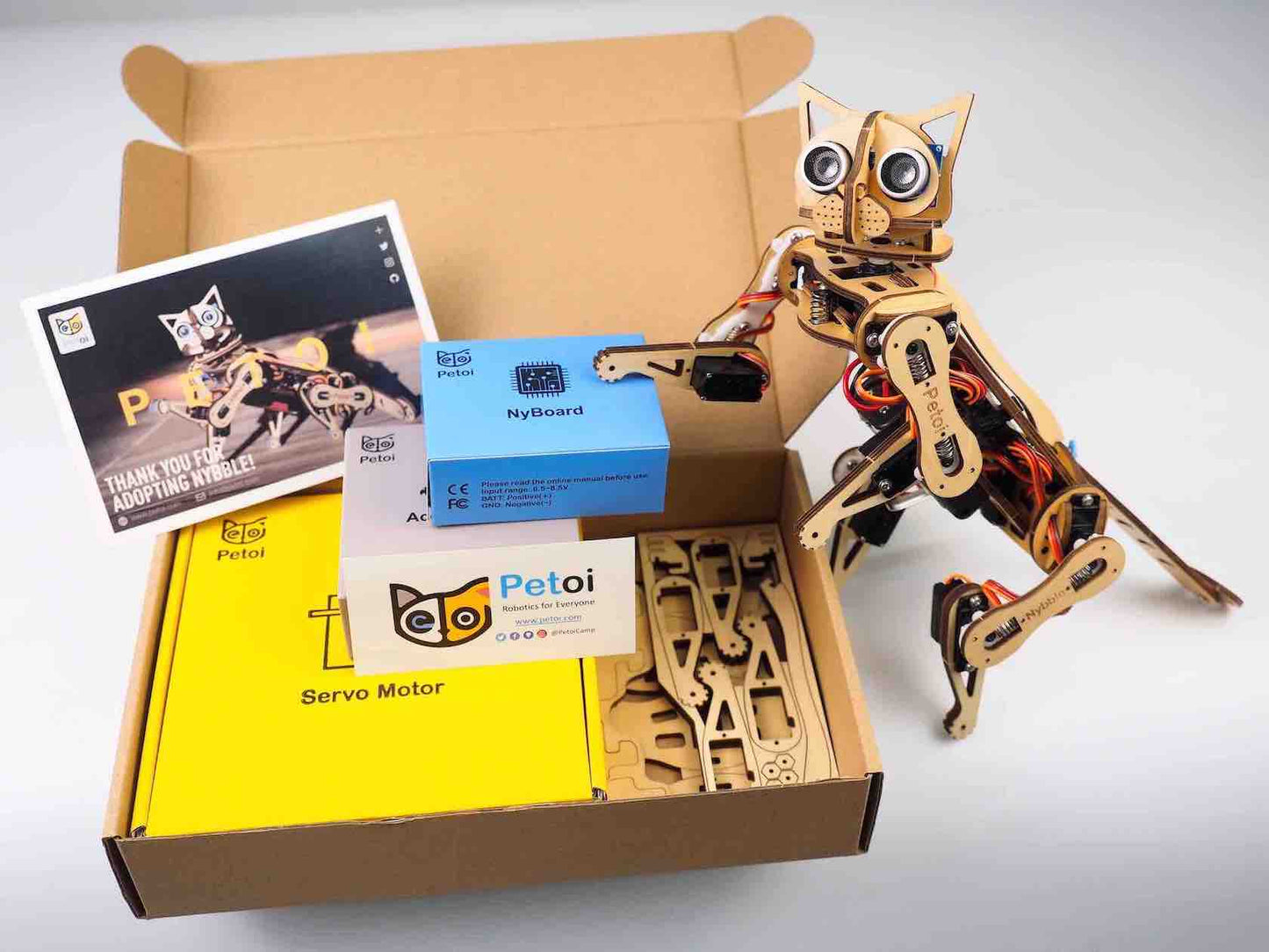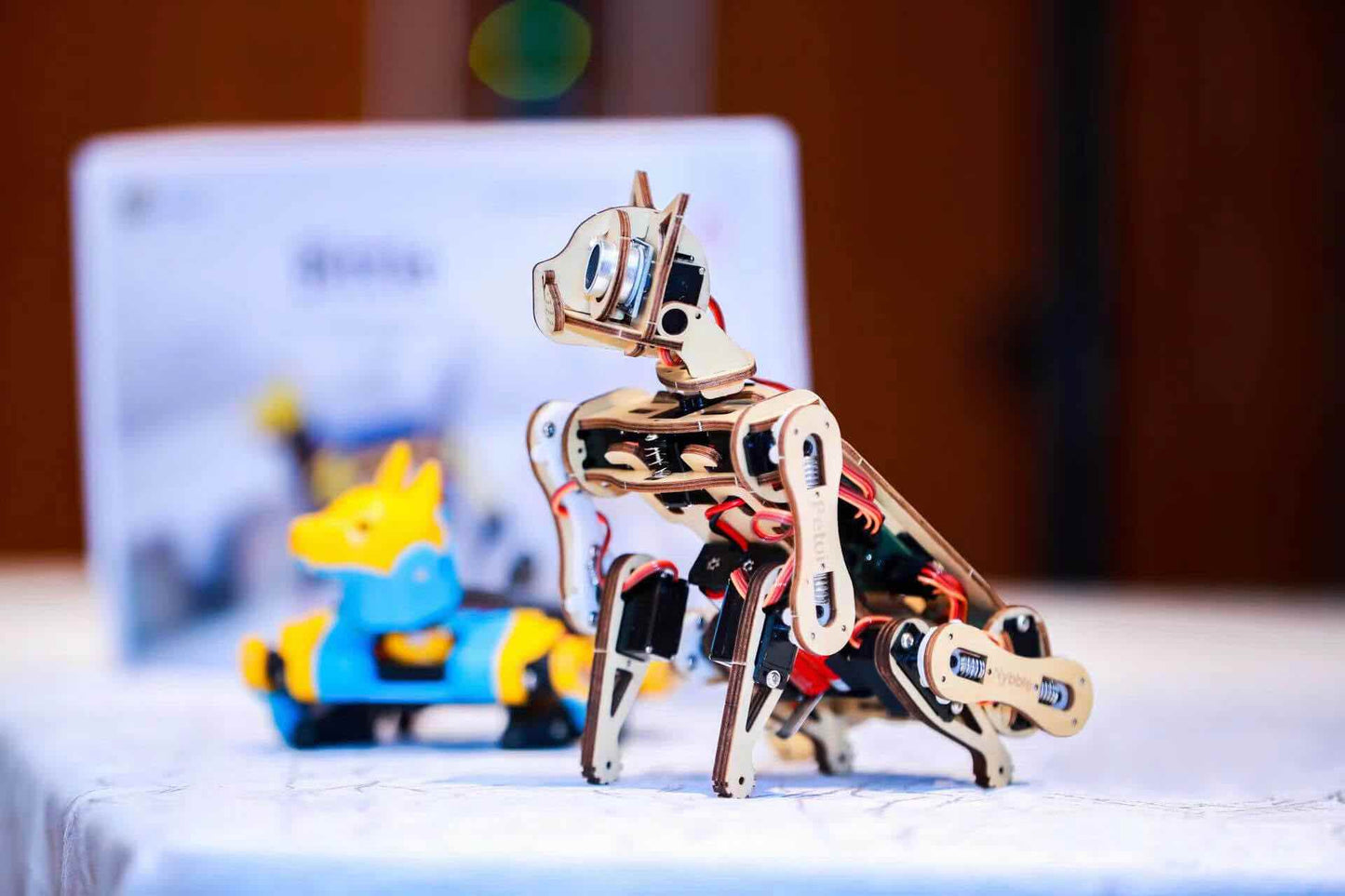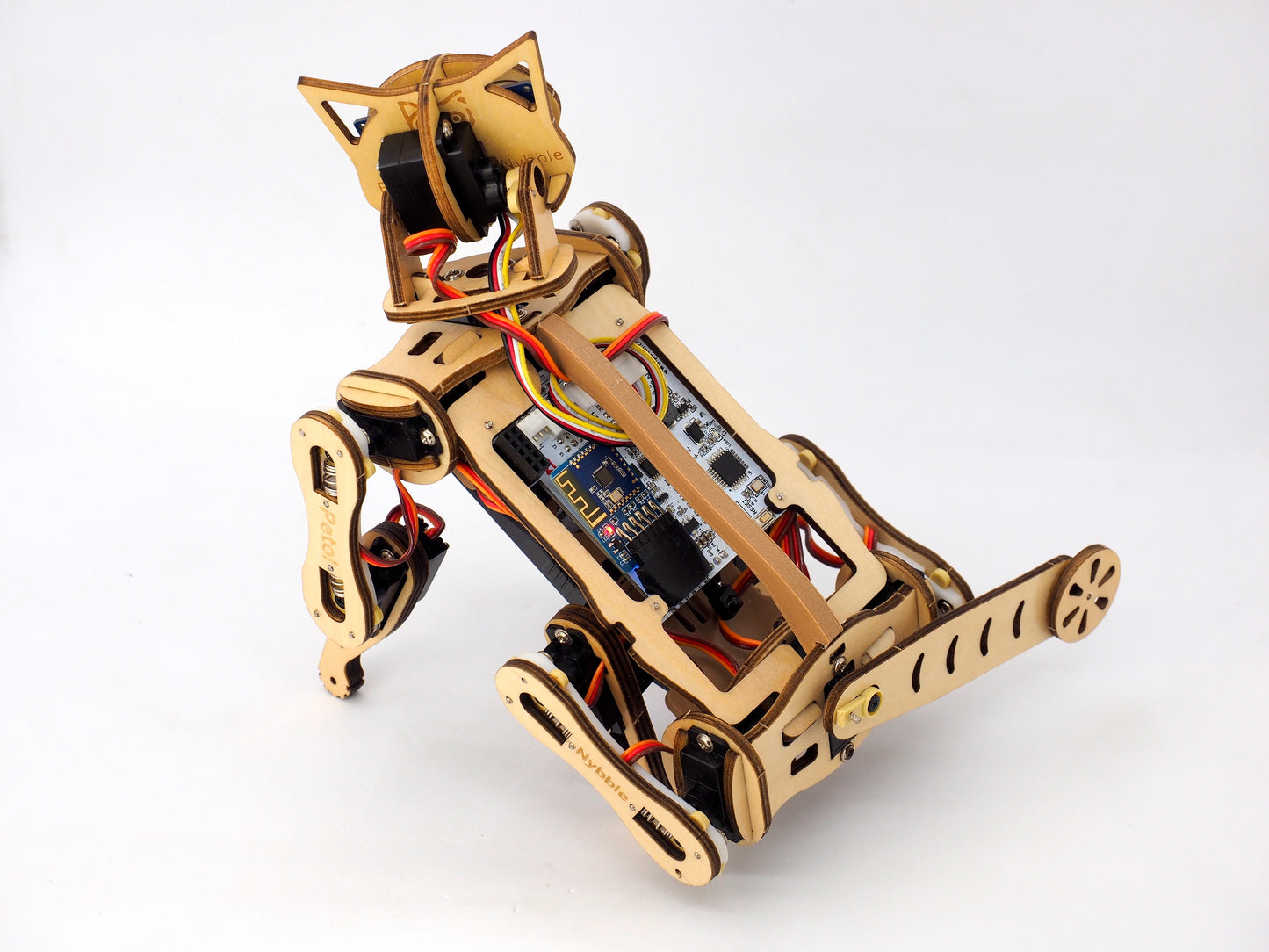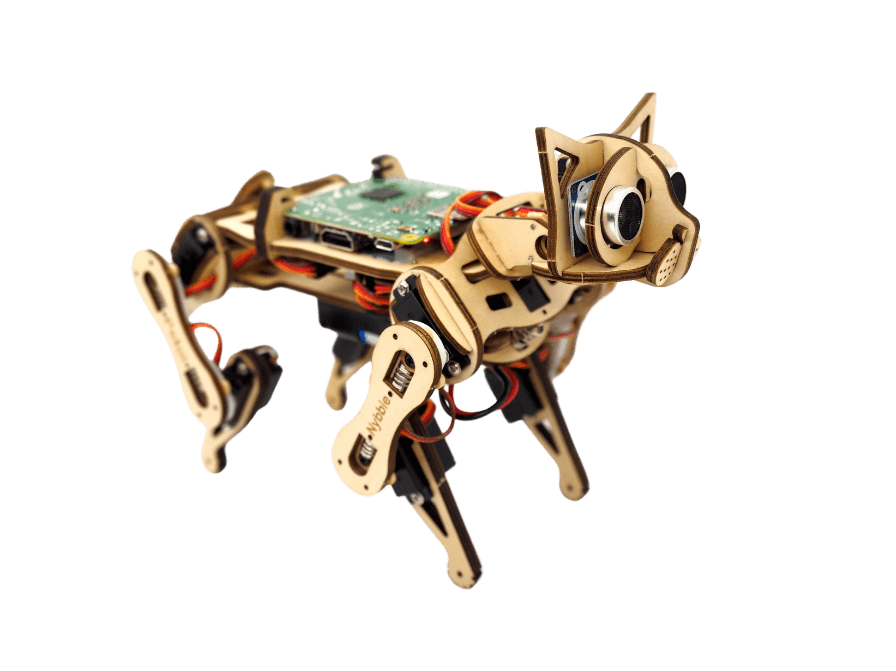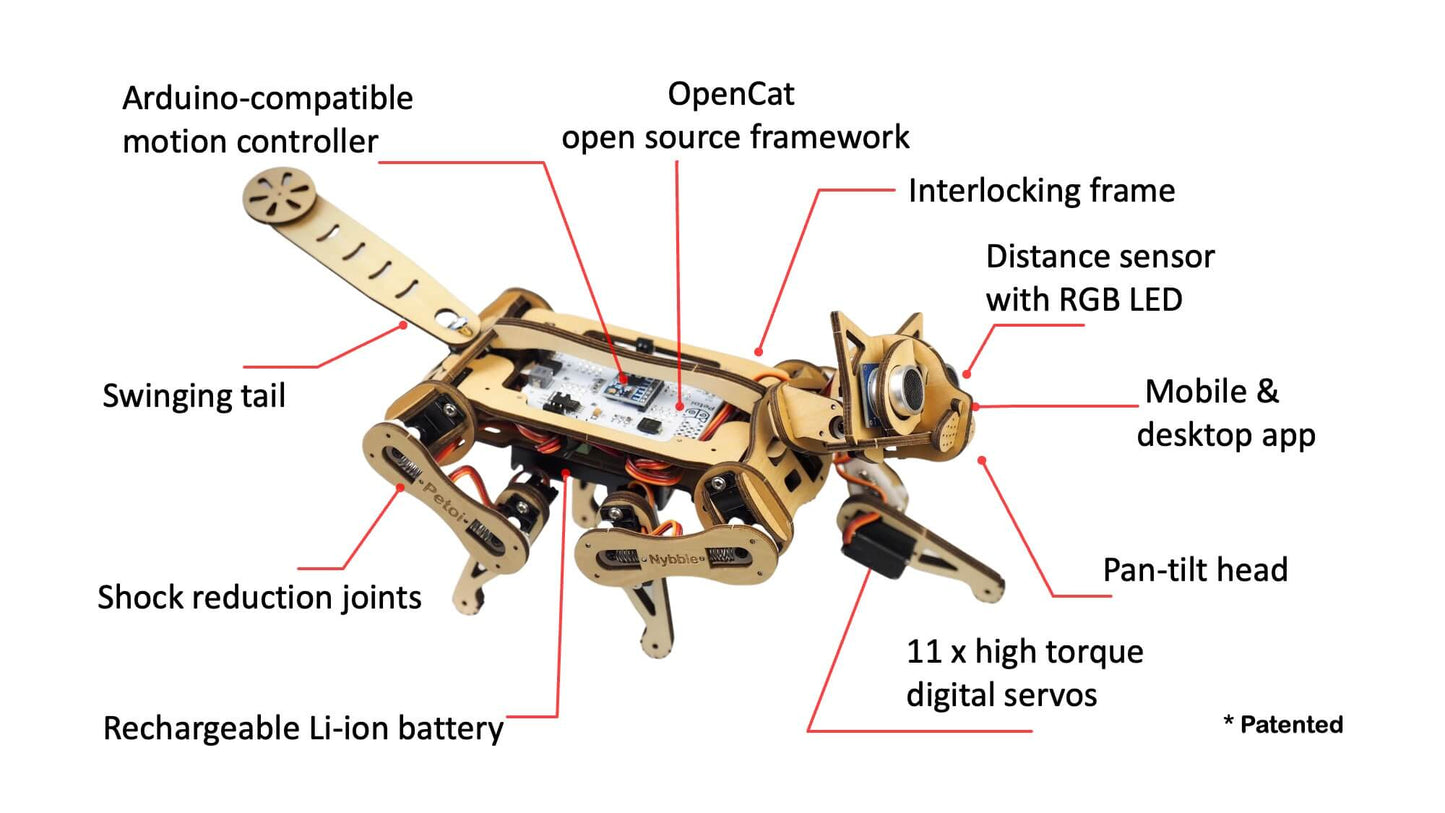 Amazing Robot Cat!
I wasn't planning on buying a robot cat, but I saw Nybble and was smitten. I don't have robotics or programming experience, so I wondered how this would go. It took me two days and lots of trial and error to complete, but my Nybble is up and running! I referenced the online manual extensively, and also checked the forum when I ran into problems. Now I'm going to see if I can successfully add the voice module. I'm also planning on trying some programming through the Petoi Desktop App. I'm having a lot of fun!
Robot kitty
Excellent kit. Beautifully crafted and well designed. Highly recommend.
Cute, fun robot!
As someone who wants to get more into robotics, I much appreciate that a kit like this exists! Assembling my Nybble was enjoyable, however, I do have to note that some of the wooden pieces weren't cut accurately and thus troublesome to fit with other pieces. I'm not sure if this issue was just with the specific batch I have or is common with the other batches, but it wasn't too problematic for me as I was able to resolve it by doing light modifications like cutting and sanding. Plus, I like the problem-solving of getting things to fit together anyways. Still, others might appreciate a more streamlined building experience. I appreciate the wealth of documentation and resources to help you with building your Nybble. Although it can get confusing about which of the resources apply to your version of Nybble, so it would be great if the resources were better organized and not spread out for people to scavenger hunt for the correct information they need. Nevertheless, I love how modular this system is and that the code is open-source, helping robotics be more accessible to people like me.