Petoi Bittle
Petoi Robot Dog Bittle
Regular price
$228.99 USD
Sale price
$228.99 USD
Regular price
$269.00 USD
Save 15%
Sale price
$228.99 USD
(15% off)
Regular price
$269.00 USD
Unit price
per
Sale
Sold out
Shipping & Returns

☑ US orders: free shipping on $200+ orders and $5.99 shipping on smaller orders. Estimated delivery in 4-7 business days.

☑ International orders: free shipping on $400+ orders and $15.00 shipping on smaller orders, plus any applicable customs charges. Estimated delivery in 7-15 business days.

☑ Holiday orders: November and December purchases are eligible for free returns/exchanges by January 5 or within 30 days of receipt (whichever comes later). 
Share
Frequently Asked Questions
Open all
Close all
Where can I find the Bittle user manual and/or documentation?
Please visit our documentation for detailed assembly instructions, as well as configurations, sample codes, and info about available upgrades.
How old should Bittle users be when they get started?
Bittle is best-suited for users aged 10 and older. Younger users can enjoy building Bittle under adult supervision
How does the STEM kit compare to the robotics kit?
The STEM kit was developed specifically for education applications and employs high-impact plastic servos. The robotics kit was developed for research development and applications and employs metal servos.
What are the differences of all of your Bittle robot dog models?
How long does it take to assemble Bittle?
For the construction package, it takes 40-90 minutes to assemble and configure Bittle to be playable with the remote control or the Petoi mobile app.
The preassembled package allows users to enjoy Bittle straight out of the box with the included remote control or the Petoi mobile app.
Does Petoi offer drag & drop coding support?
How long does the battery last?
The Li-ion battery pack for about one hour of continuous walking.
Does the kit include a charger?
The kit does not include a charger but a Micro-USB to USB cable. The battery can be charged with regular micro USB chargers.
Can you tell me more about how your quadruped robots work with Arduino/Raspberry Pi and its supporting modules?
Can you tell me more about the supporting software to control and program Bittle?
Can you tell me the differences between your quadruped robot dog and cat?
How is Bittle compared to some of the best quadruped robot dogs and mechanical puppies on the market?
Does Bittle require a network connection to fuction? Does it send my voice to any server?
No, Bittle doesn't need any network connection. It processes your voice command locally and doesn't send any of your voice to any server.
How much weight can Bittle carry?
How many joints and degrees of freedom does Bittle robot dog have?
Bittle is a four-legged robot dog with 2 joints on each leg and 1 joint on its neck, so a total of 9 joints. It means Bittle is a 9-degree-of-freedom(DOF) quadruped robot.
How fast can Bittle run
A safe fast speed is 2 body lengths/second, or 40mm/second. It could run 3-4 body length /second in experimental mode(not published).
Where can I find 3D-print STL files for Bittle?
Is there a robot dog Bittle unboxing review?
Is there any Bittle review on Amazon?
Where can I find the best price for Bittle? When will Bittle be on sale?
Petoi.com always has the lowest price. Please scroll down to the bottom of this page and subscribe to our newsletter to get notifications of sales.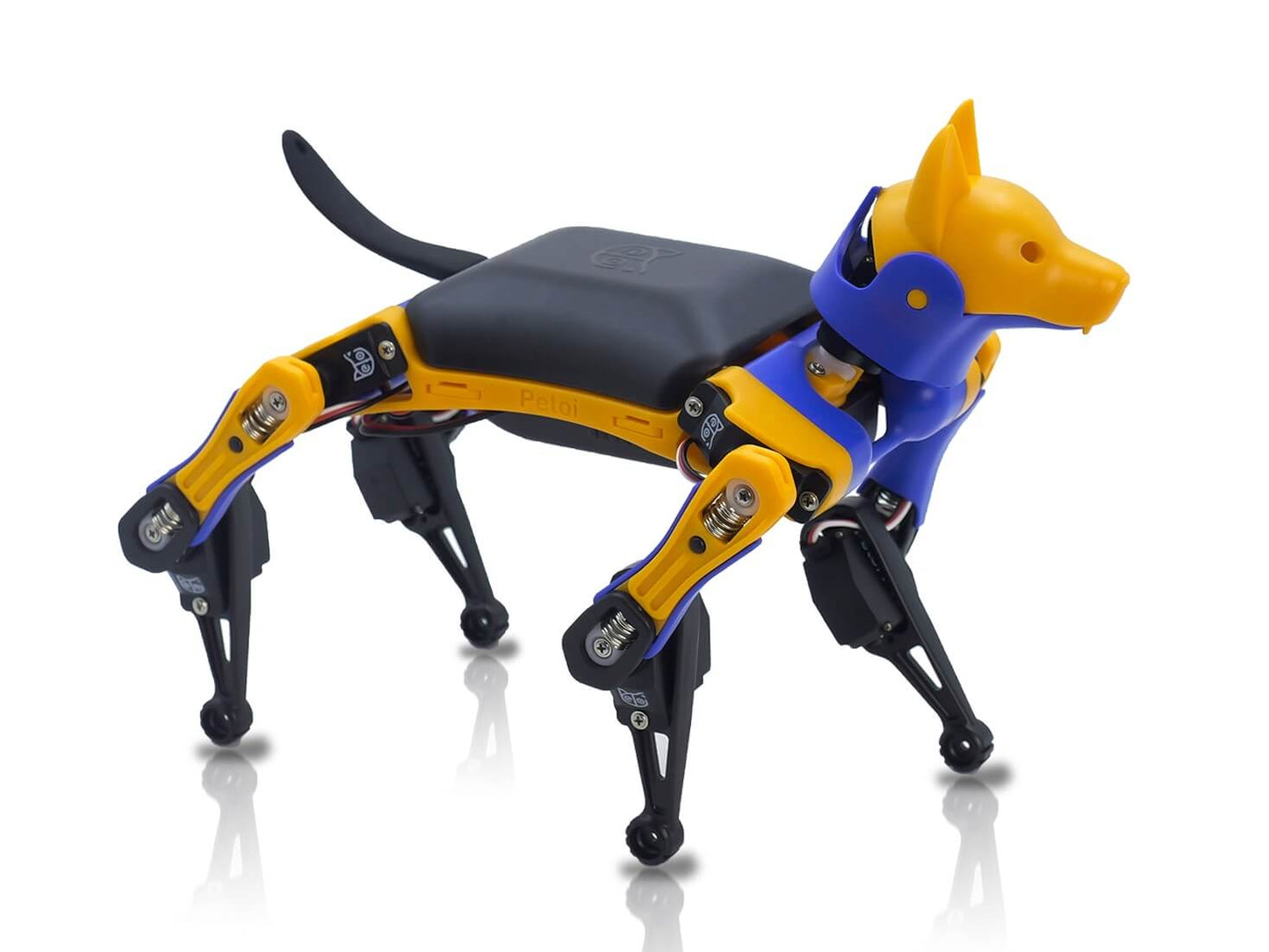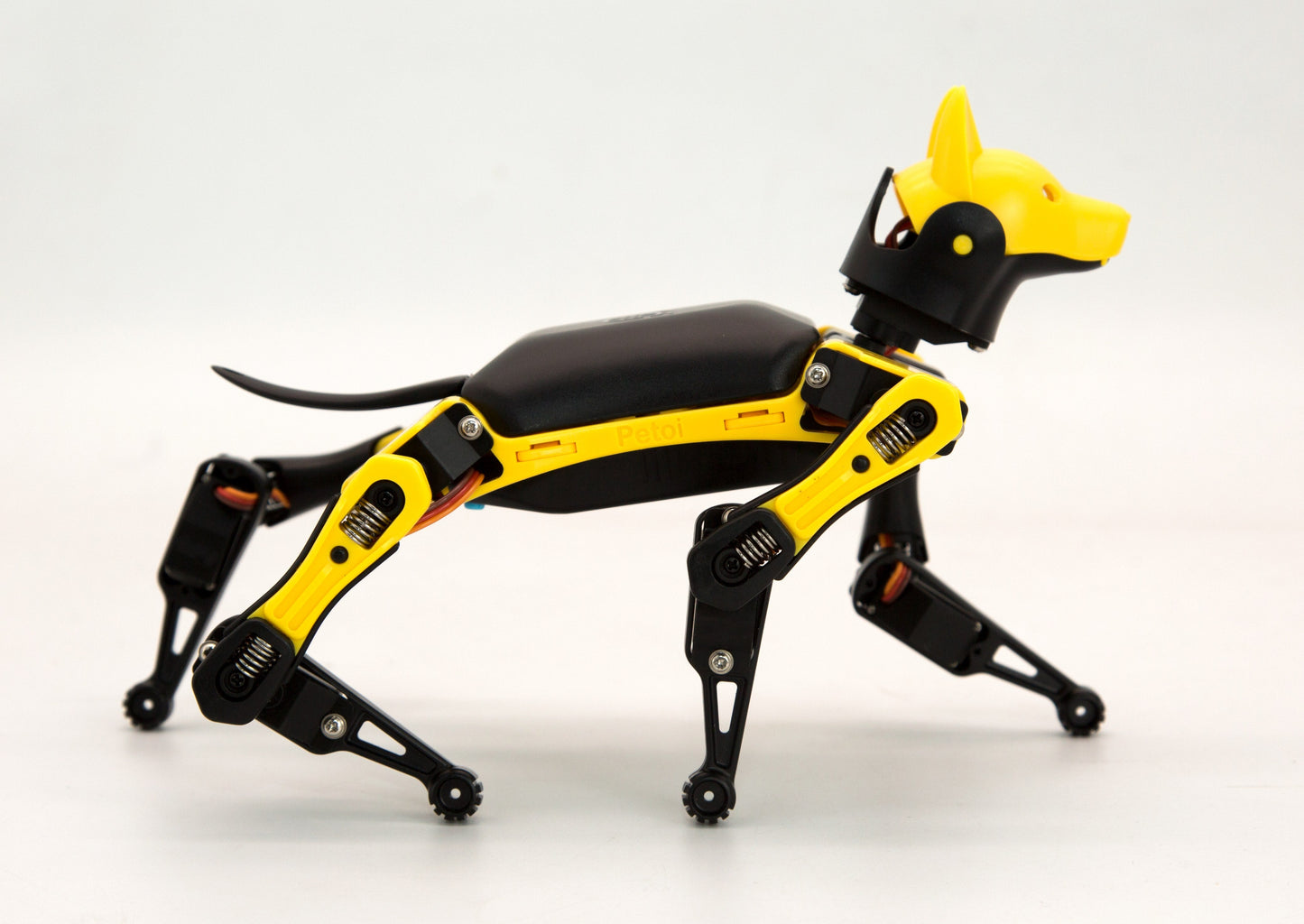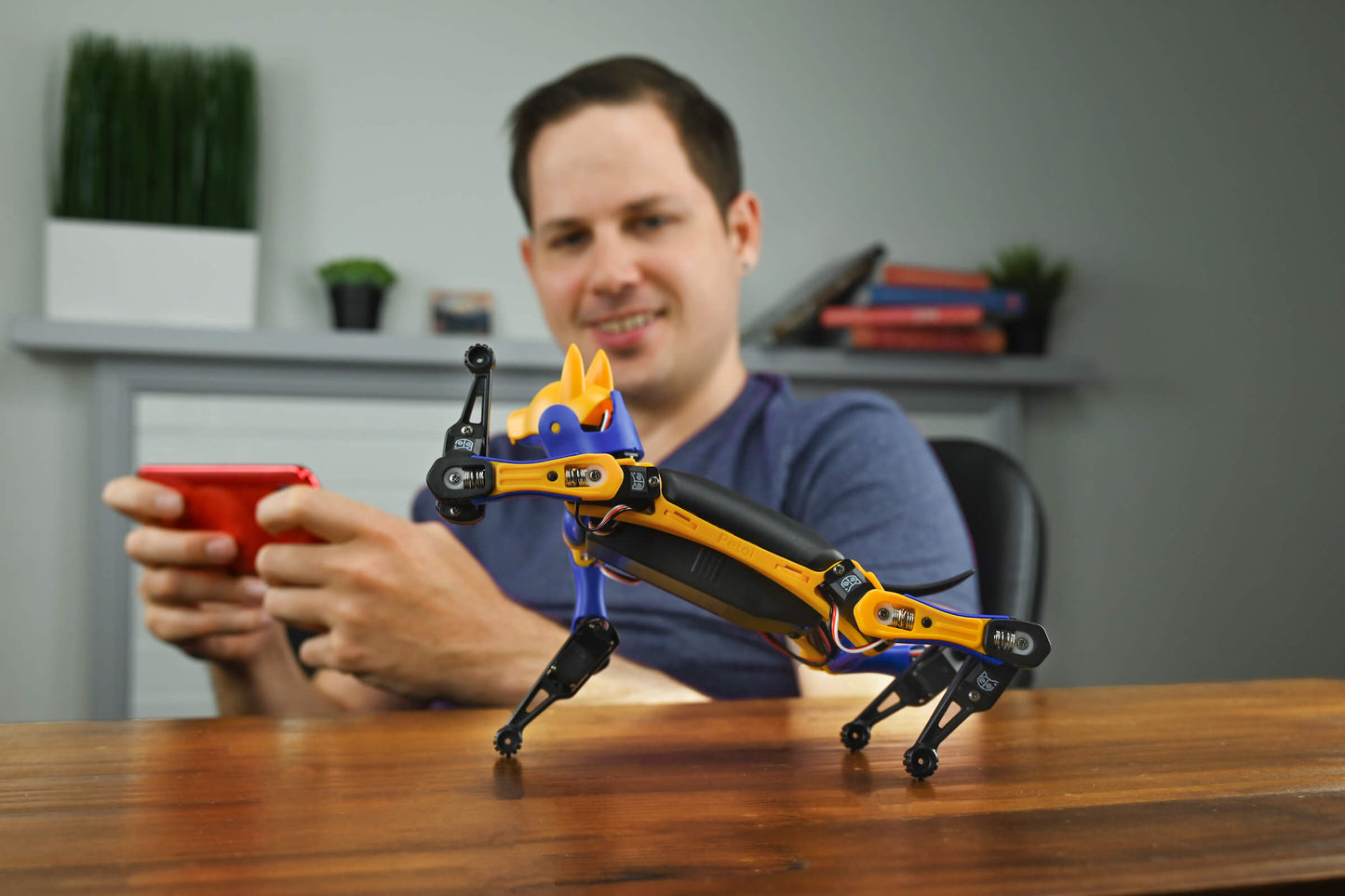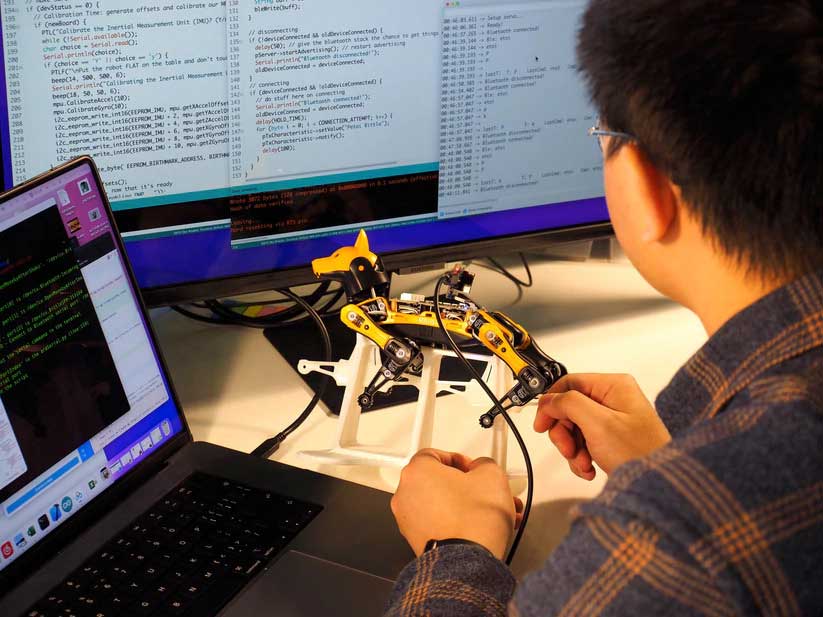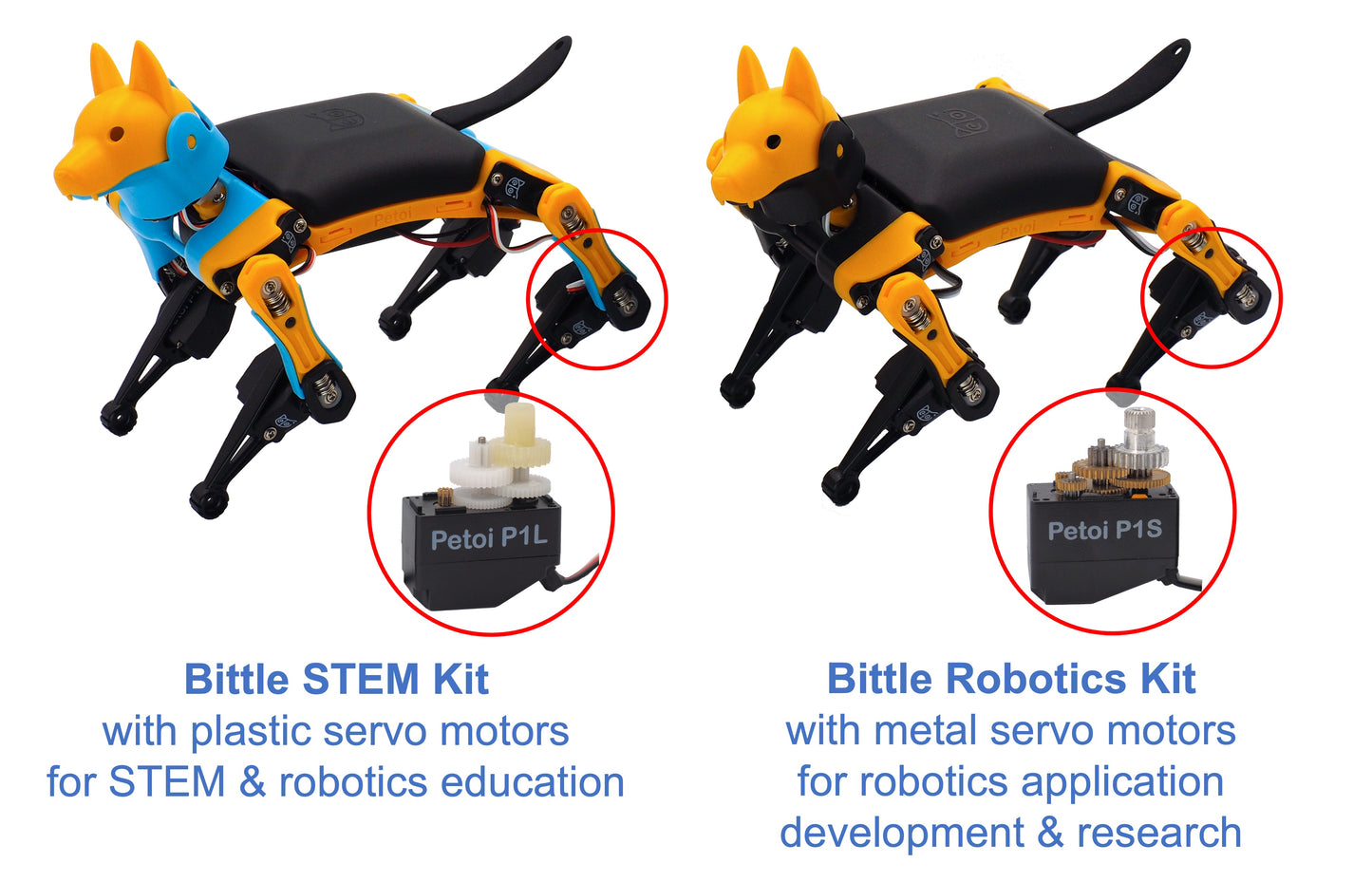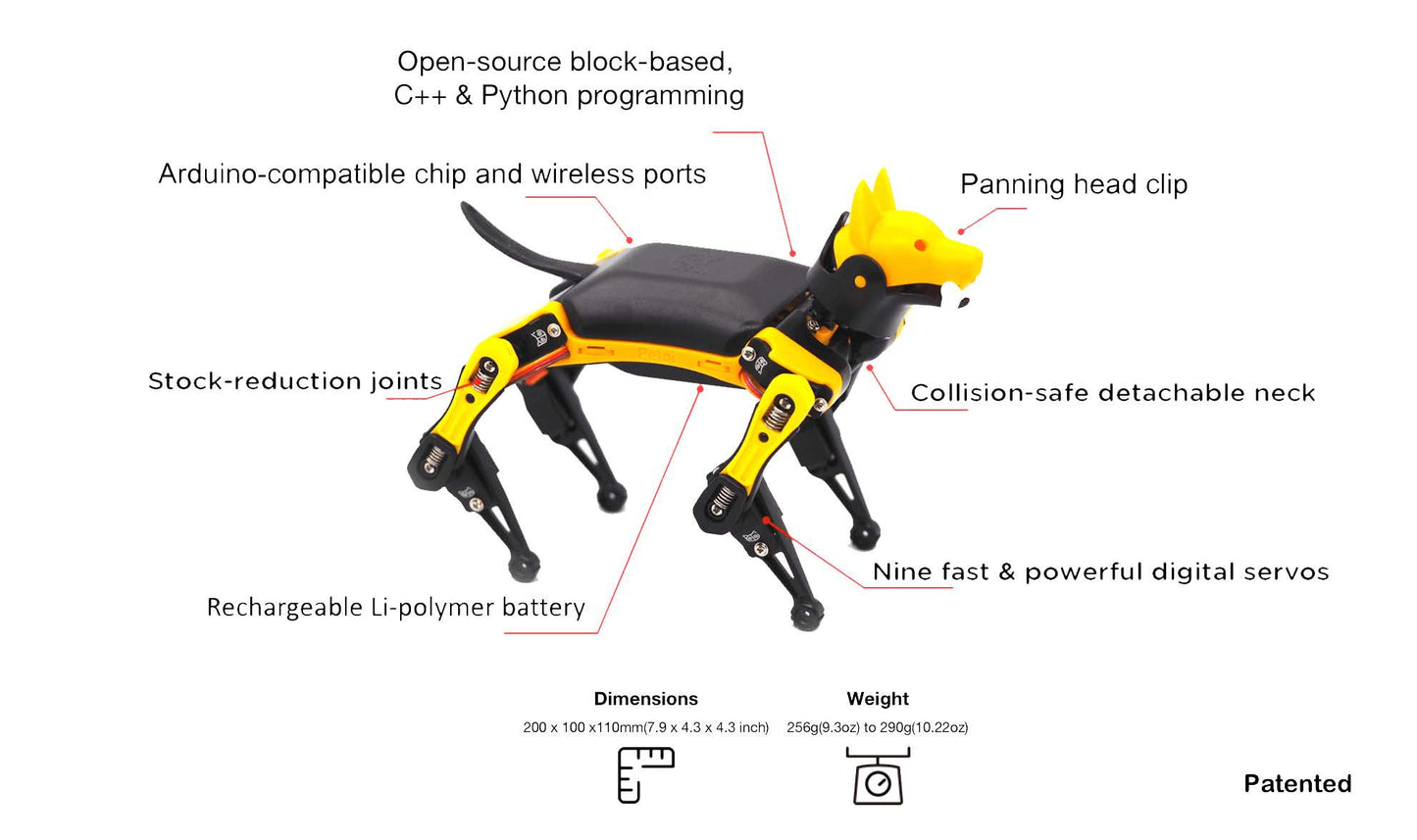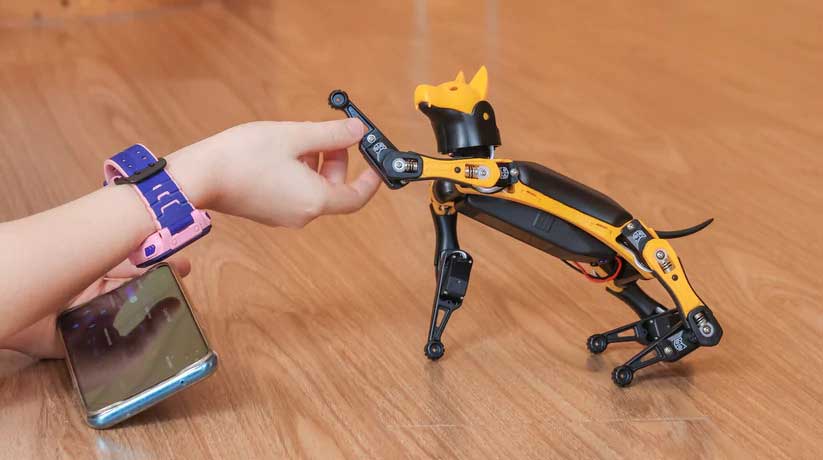 Perfect gift for teenager who is getting into engineering and needs real challenge
Got this for my sister for birthday, a 17 year old high school student with great interest in engineering and computer science. The product itself do need assembly but is vey well presented, all components were neatly organized and easily recognizable, it was a pleasure seeing my sister put them all together. And that was just the start. ( which did take half day, I believe they do have pre-assembled version)
She immediately dive into the coding part of the fun, software came with the product was easy to use, With builtin bluetooth and USB modules, and a remote, you can unlock all kinds of possibility, which opens unlimited potential. you can rewrite any part of the code you want because it's open source, it's small yet strong.
I highly recommend the Petoi Bittle robot dog kit to anyone interested in learning robotics or engineering.
Affordable smart quadruped robot for programming fun
I always wanted a robot dog to try out quadruped robotics. I dreamed about owning a Boston Dynamic spot mini or Sony Aibo. But those are just too expensive. I was skeptical about this Bittle dog given its price, even its videos look impressive. So I got the pre-built version. It's fun out of box with all the built-in commands.
The performance is very good given the price. It can walk fast but with a lot of stability. The backflip and frontflip tricks are truly amazing. It can even get back up by itself if it's upside down.
The programming support is good. I did some C++ programming and used Petoi's desktop app to build some new skills. The app is a time-saver. It lets me visually move servos to create new skills.
This is not a toy for everyone though. It's more like a smart robot for geeks. I did run into a few problems, but I got help from the documentation and Petoi's support.
Had to have him put down
My son loved his new little friend. Didn't take long to housebreak him and learning a lot of basic commands like, sit, stay, give high fives and best of all sleep on command. It all came tumbling down when he bit our mailman. The police showed up along with the local animal rescue league and they took possession of him and then put him down.